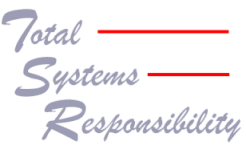 Total System Responsibility - TSR - is the term that members of the Plumbing and Mechanical Contractors Association have devised to describe their working philosophy.
TSR - Provides you with an efficient, economical way to concentrate within a single organization, the complete responsibility for the installation and servicing of closely related mechanical systems.
TSR - Enables you to communicate your needs and discuss your plans and problems with one person - the Project Manager who represents the Mechanical Contractor.
TSR - Pinpoints accountability for costs, scheduling, labor, liability, and other factors which directly affect your bottom line.
TSR - Gives you the highest level of professionalism and skills in the construction industry, under the tightest controls.
TOTAL SYSTEM RESPONSIBILITY.
THE BETTER WAY TO BUILD.