Career FAQ
WHAT IS THE MECHANICAL INDUSTRY?

The term mechanical industry covers the mechanical skills, crafts and management techniques that are among the fundamental requirements for every type of building, whether it be a school or factory, a hospital or a gigantic power plant. The Mechanical Industry is responsible for installing the heating and air conditioning, piping and plumbing systems without which buildings and other facilities would be merely empty shells.
There are a wide variety of jobs available. Estimators, draftsmen, foremen, designers, pipe welders, managers, salesmen, plumbers, pipefitters, engineers and accountants are but a few of the possible careers in this field.
ARE THERE CREATIVE JOBS?
Definitely! Every individual on a contractor's team plays an important and significant role in the creation of the final living structure that is being built and has a hand in the creation of something that didn't exist before.
When the job is completed, the finished building stands as a monument to all the men and women who were part of its creation. Each time you drive by, you will be reminded that you were part of making it happen.

DOES IT PROVIDE BENEFITS 
TO OTHER PEOPLE?

The mechanical industry provides systems that not only automatically sustain our comfort and health, but it can be said that the main reason for this industry's existence is to serve people by creating an ever better environment for them to live -- protecting the health and safety of the nation.

DOES THIS INDUSTRY OFFER A 
STABLE BASE FOR A PERSONAL CAREER, 
AND GROWTH POTENTIAL FOR THE FUTURE?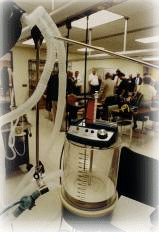 Continually arising new frontiers will require increasingly skilled craftsmen trained in the mechanical industry.  Here are just a few: air pollution control; development and installation of control systems to banish pollution of precious existing fresh water sources; and cryogenics, the science of handling and utilizing extreme cold by means of specially designed systems to service society in new ways, from fresher frozen foods to biochemical research.  These are among the major opportunities for growth. To meet them successfully the industry must offer growth to its people in their jobs, and even more importantly, in their training and development. 

HOW ABOUT COLLEGE CREDIT?

While you are training, you are also working and paying your way. With the Greater Michigan UA 190 JTC program, your training is at Washtenaw Community College, and you receive college credit for your training. 

You take a few additional courses, on your own, while you are doing your apprenticeship and you graduate with both a Journeyperson card, and an Associates Degree.
Contact us today to learn more about this exceptional career, in an ever growing industry, with unlimited income and advancement potential.
---
EMAIL: info@greatermichiganpmc.org